Saks Fifth Avenue:
Creating a Myth
High-end retailer Saks Fifth Avenue prides itself on their elaborate year-end holiday displays and promotions. Having hired designer Marian Bantjes to design a set of lavish snowflakes to be projected onto their flagship New York store as an animated flurry, they asked themselves, "Who makes the snow?" Their answer? There is a Yeti living on the roof of Saks. It is he who makes the snow. Now they just needed to find out what he looked like.
Creating Holiday Magic by Monday
Faced with a highly compressed timeline, Saks turned to 344 for a lightning turnaround character design, and got more than they bargained for. Within four days, we presented over 40 character designs, and then went on to help Saks develop one of them into a 14-inch plush character in its own custom hoodie backpack in time for the holidays. Along with the character, we collaborated with the Saks team on a number of promotional tie-in items, such as gift cards and a six foot in store display Yeti.
We further created character drawings that could be seamlessly integrated into a children's book—"Who Makes The Snow?"—that had already been in production. When asked to produce a care tag for the Yeti plush—"Don't put the Yeti in the wash"—we instead created a 20-page emotional care tag that gave users directions on how to make their Yeti feel safe and welcome during the stressful holiday season. It also gave a bit of background on the Yeti's origin and hobbies.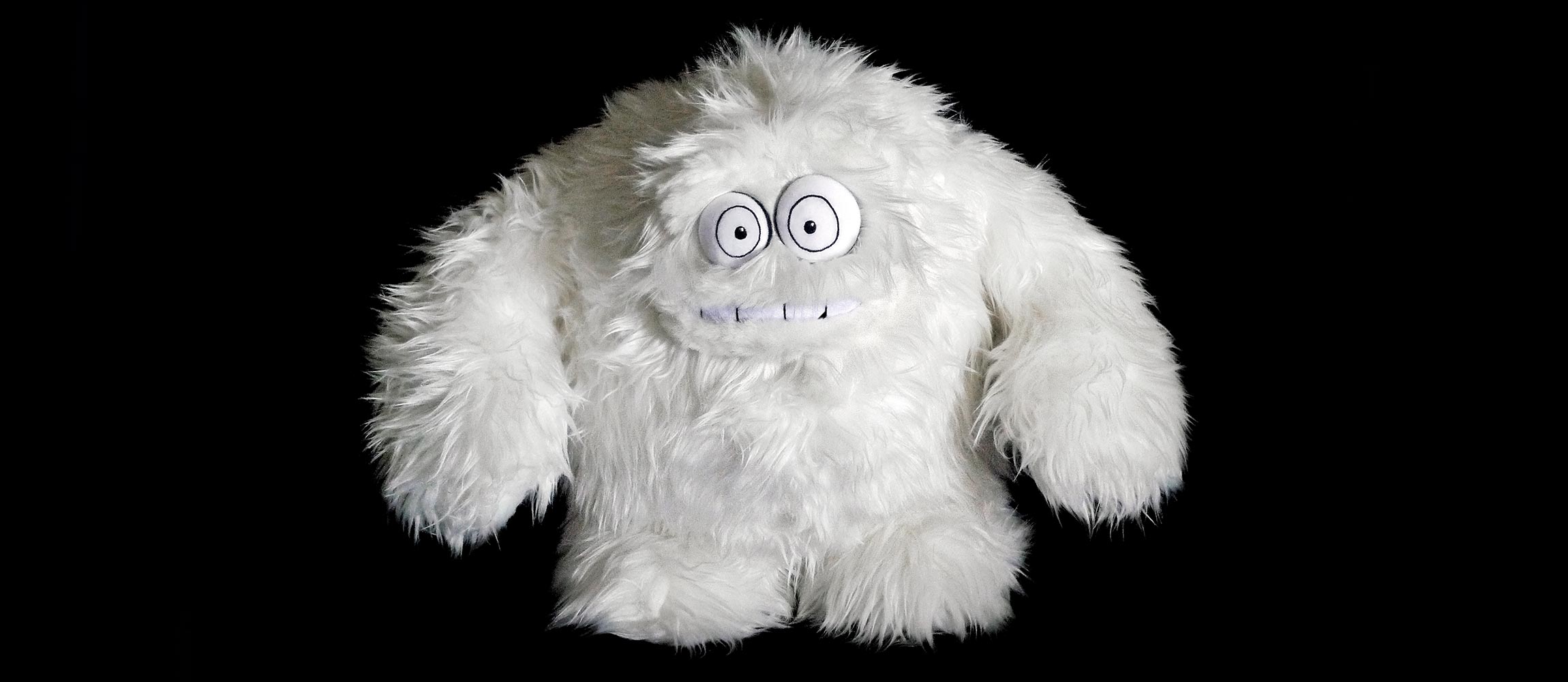 Stories Sell
The Saks team immediately understood the potential of giving the Yeti a backstory—making him not just a fun toy based on a sight gag, but a non-denominational holiday mascot that would draw kids and their families into the store during the year's busiest shopping season. They also, quite simply, fell in love with the Yeti, and had fun dreaming up ways to bring him to life. Most notably, they produced a teaser video shot on the Saks roof, adjacent to St Patrick's cathedral, that showed construction workers spotting the Yeti—created by means of stop motion based on our character design. They also let the Yeti—possibly portrayed by an actor in a suit—ring the bell of the New York Stock Exchange.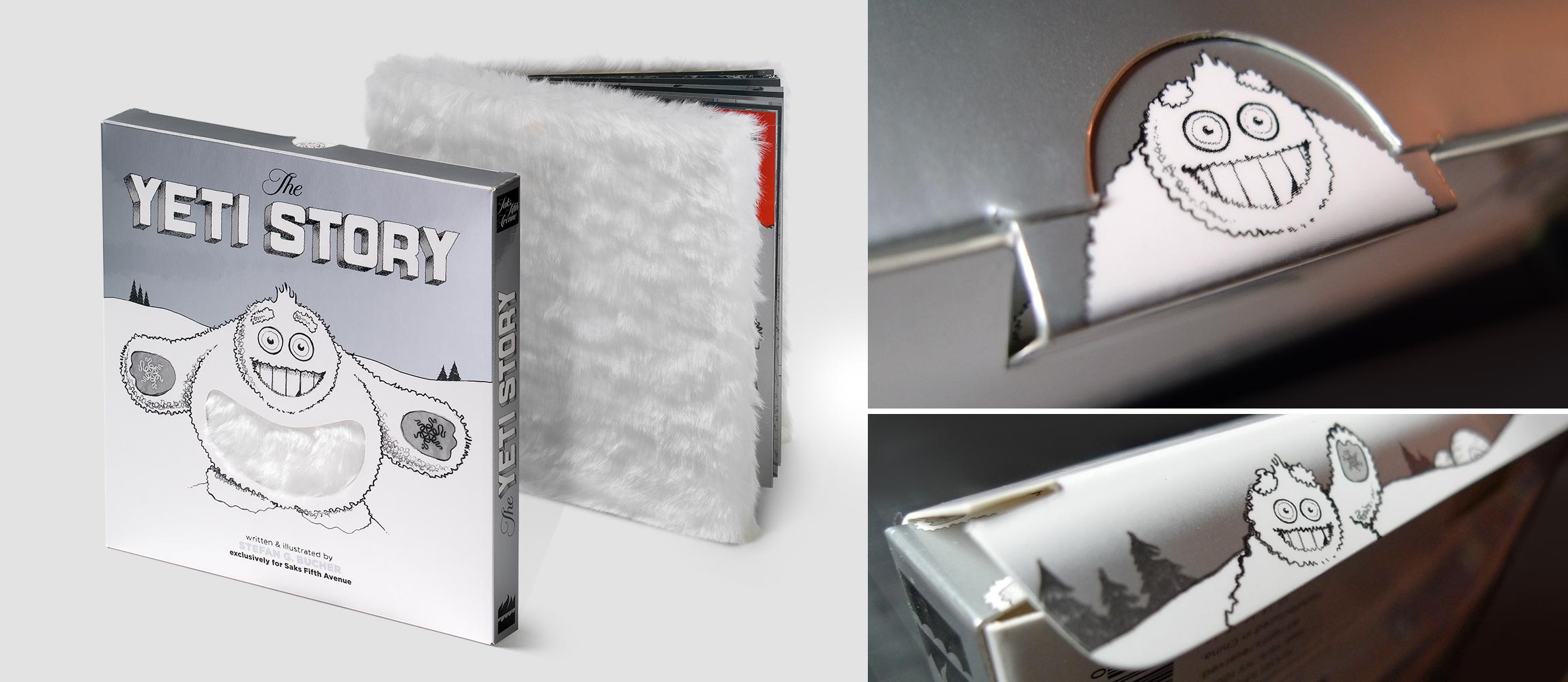 Good Stories Sell for Years
While Saks usually picked a new holiday theme each year, they extended the Yeti's stay to three years. In Year 2, they asked 344 to write and illustrate the Yeti' origin story, for a fur-covered book published by HarperCollins. (In the 1950s, the Yeti escapes from a Siberian snow making gulag, travels the world in pursuit of the perfect snow conditions, and ultimately makes his way to New York to save the holidays.) They also invited us to make a smaller version of the rather substantial OG Yeti, lovingly dubbed "Son of Yeti." The original Yeti returned to Fifth Avenue as a giant eight-story tall computer animation projected on the side of the building.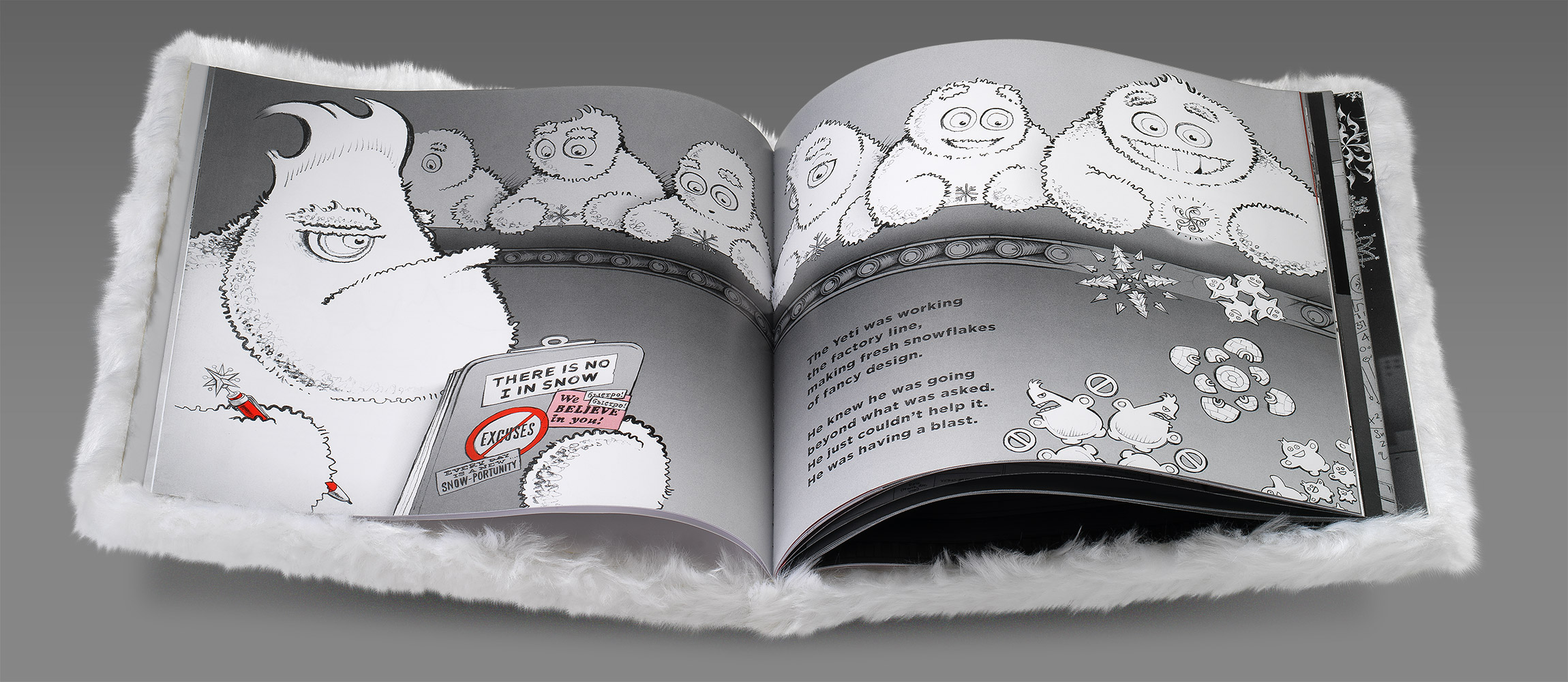 Stories With Heart Touch Everybody
More books were ordered for Year 3, and the Yeti became the star of the Saks holiday windows. Saks faithfully recreated the book in a series of six animatronic tableaus that became a major social media hit throughout the season, and drove sales of plush, books, and a line of Yeti merchandise and mementos.
Initially hired merely to design the look of a character based simply on the description, "He's a Yeti who lives on the roof and makes snow," 344 instead became a valued partner to the Saks team and created lasting intellectual property that generated both positive buzz and a healthy increase in profits.